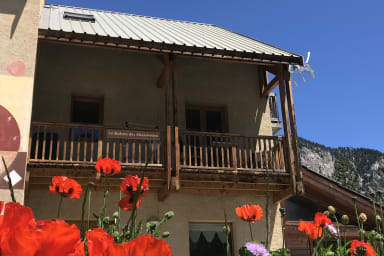 Le Balcon des Charmottes is an eco-friendly accommodation, completely renovated in the former hotel "Les Charmottes".
The Space
Located at the first floor of the former hotel Les Charmottes, Le Balcon has been entirely renovated to transform it to a spacious, modern and comfy apartment.
It has a bedroom with a double bed, a bathroom with a big shower, a towel-dryer and a washing machine. You'll also enjoy the living room, oriented to the South with a fully equipped kitchen -oven, dishwasher, kettle, toaster- and a relax area with a sofa, a DVD player and a Chromecast to cast your favorite programs on the flat screen.
At least, what would be Névache without the sun, which you'll enjoy from the balcony.
COVID-19 measures
Following the pandemic, we have implemented several measures to guarantee your safety and prevent the spread of the virus.
• Intensive cleaning: we take great care in cleaning the apartment. Before your arrival, the whole apartment is cleaned with black soap and disinfected with an alcoholic solution to eliminate a maximum of germs.
• Autonomous check-in and check-out possible. Although we like to welcome our guests in person if you prefer to avoid any contact, let us know and we organize an autonomous check-in and check-out.
Access
Travelers enjoy the entire apartment, the balcony and a private ski room.
Interaction with guests
We live on the same floor and will be happy to inform you about activities to do on the valley.
Neighborhood
Le Balcon is located in the first hamlet of Névache called le Roubion. Super sunny, close to the cross country ski slots, the ski school, the grocery store and the renting shop Névasport.
Transit
Le Balcon has a free parking for the travelers coming by car. It's also possible to reach Névache by train -nearest train stations are Oulx in Italy and Briançon or by plane -nearest airport is Torino.
Our engagements
We live in a beautiful and unspoilt valley and are committed to providing accommodation in line with the region we live in and our values.
This is why we are committed, as a renter of furnished, to follow the following charter, ensuring responsible management of the property we rent:
• Equip the housing with hygiene and maintenance products (detergent, detergent, household products, soap, shampoo) and / or homemade from natural products.
• Provide renovated housing and reasonable consumption: double-glazed windows; electric heaters, with cast iron core, emitting a gentle and continuous heat while consuming moderately; LED bulbs
• Maintain housing with organic and / or homemade products from natural products: washing of household linen with a "zero-waste" household laundry, natural drying and no ironing; cleaning the housing with elbow grease, water vapor and natural detergents.
• Promote local products: on your arrival, we offer you products of Névache or the department according to our inspiration; in the apartment you will find information on all artisans, traders and local producers.
• Inform the travelers about the sorting instructions of the village, and offer sorting bins to make it easy to follow them.
• Avoid as much paper as possible, sending the contract and information about the trip by e-mail; online payment to avoid mailing.
+ More
Less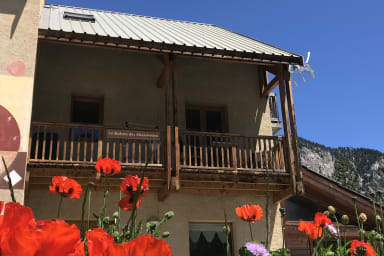 Enjoy the great view from the balcony © B.Boone
A nice living room to chill after the day of ski © B.Boone
The kitchen corner, well equipped to feel at home © B.Boone
A cozy and quite bedroom to rest © B.Boone
The house linen is provided © B.Boone
Enjoy the flat screen to watch a Netflix movie (Netflix not provided) © B.Boone
Enjoy the sun most of the day inside the apartment © B.Boone
The entrance, where you can leave your jackets and get warm! © B.Boone
The bathroom has a big shower and a washing machine © B.Boone
The Space
Accommodates: 2
Bedrooms: 1
Bathrooms: 1
Property Type: Apartment
Check-in: 17:00
Check-out: 10:00
---
Amenities
Babysitter recommendation

Cleaning and disinfection

Contactless check-in and check-out

Long Term Rentals Available

Paperless / recycled paper

Suitable for infants (under 2 years)

Information about property sustainability

Towels changed upon request
Reviews
Herve M.

Accueil et Appart au top

Recommandé, parfait pour un court séjour, 2 couchages possibles

March 2021

---

Patrick P.

Un petit coin de paradis

Séjour agréable dans une belle région. L'appartement est bien situé . Il est très bien équipé. Un beau point de chute pour passer de bonnes vacances !!

March 2021

---

Nid douillet

Petit appartement très confortable et bien équipé. Le bacon est top pour prendre le repas au soleil même lorsque le thermomètre n'arrive pas à passer au dessus de zero

February 2021

---

Séjour au balcon des charmottes

Super séjour au balcon des charmottes qui est très bien placé à Nevache avec les commerces et les pistes de ski à proximité et l'école de ski. Merci à Maud pour ses conseils et ses excellents massages ! Nous recommandons vivement pour passer un séjour dans cette magnifique vallée de la Clarée.

January 2021

---

Eté Indien

Séjour d'automne à Névache en dehors des périodes d'affluences... parfait!

October 2020

---

Les charmottes

Propreté, equipement, situation au top!!

September 2020

---

Excellent séjour

L appartement, très agréablement situé, présente tout le confort et l équipement plus que nécessaires. Le balcon est un grand atout. Les hôtes sont particulièrement accueillants et avenants.

August 2020

---

Un séjour parfait

L'appartement récemment rénové est très bien équipé. Il est situé à proximité des services (départ navettes, superette, artisan chocolatier et apiculteur...). Roubion est le point de départ idéal de la vallée de la Clarée et de la vallée Etroite aux cent lacs, avec de nombreux sommets accessibles dont les mythiques Cerces et Thabor. Plusieurs refuges en moyenne altitude permettent une pause gourmande. J'ai passé un excellent séjour chez Maud et Antoine, des hôtes sympathiques.

August 2020

---

Balcon des charmottes

très belle prestation. bien située et accueil très sympa.

July 2020

---

appartement bien équipé et bien situé

Bon accueil de Maud. Appartement idéal pour 2 personnes et proche des randonnées essentielles de la vallée de la Clarée. A recommander.

June 2020

---

Nathalie C.

Balcon des Charmottes

Maud et sa famille sont très accueillants. Tout en étant discrets ils savent être à l'écoute de leurs hôtes. Le logement est bien situé, très propre et parfaitement équipé avec du matériel de qualité. La vallée est magnifique, n'hésitez pas à passer quelques jours quelque soit la saison😊

June 2020

---

Excellent séjour

Tout était parfait ! Avec le soleil en prime.

February 2020

---

Séjour balcon des charlottes hiver

Emplacement excellent convivial bien équipé belle vue A Névache même Très bien situé départ des pistes raquettes et ski fond Très belle vallée de la clare avec une suite de vieux petits villages très jolis à marcher et visiter

January 2020

---

Très bon séjour !

Nous avons reçu un très bon accueil. L'appartement est très propre, bien équipé et très agréable ! Nous envisageons d'y revenir pour un prochain séjour.

January 2020

---

Valerie T.

Séjour de 3j en décembre

Merci à Maud et Antoine pour ce super séjour grâce à leur appartement dans lequel on se sent tout de suite comme à la maison. La météo nous a aussi permis de nous régaler avec une journée neige et une autre avec un splendide soleil, cocktail réussi pour partir raquettes et skis aux pieds du logement même. À très vite.

December 2019

---

Jacques A.

Merci Maud

Nous avions deja effectue un sejour plus bref en juin 2019 et nous avions dit a Maud que nous reviendrions plus longuement en Automne . Donc toujours aussi bien accueilli et parfaitement loge , L appartement est toujours aussi confortable et bien situe . Merci a Maud et a son mari . Nous reviendrons surement , car cette petite vallee est un petit paradis .

October 2019

---

3 JOURS DE REPOS PASSES AU GITE LE BALCON DES CHARMOTTES

CADRE MAGNIFIQUE GITE JOLIMENT DECORE AMBIANCE CHALEUREUSE

October 2019

---

Claude L.

Séjour à Névache

Grand appartement parfaitement situé - au calme, à proximité d'une épicerie et des navettes qui desservent la vallée en été - et bien équipé, avec une décoration sympa et un mobilier neuf, donc un lieu de vie agréable et pratique pour profiter des merveilles de la vallée. Les relations avec l'hôte sont amicales et fiables. Bref tout pour permettre un super séjour !

August 2019

---

Noémie D.

L'océan

Comme l'an passė, super! Nous aimons énormément cette location, son emplacements et ses propriétaires.

August 2019

---

Nevache le balcone de charmottes

Ottimo comodo pulito gentilissima la propietaria....Da consigliare.....vicino a pizzeria...negozio di alimentari(attenzione ai prezzi stratosferici)...E navetta per nevache alta...

July 2019

---

un agréable séjour

propreté impeccable, bon accueil, confortable et bien situé. Pas d'hésitation pour aller dans cette location.

June 2019

---

Séjours au grand air !

Le cadre est charmant , les propriétaires des lieux sont agréables et a l'écoute et disponible en-cas de besoin. Le logement est grand bien équipé et aussi bien chauffé (important :D ) et il est très bien situé par rapport aux différentes randonnées qu'on peux faire dans le coin . Je le recommande fortement . Ps: étant donné que cest un appartement complet ne pas hésiter a ramener son confort comme nous l'avons fait ( oreillers , duvet , et pour ceux qui aiment faire la cuisine son matériel)

May 2019

---

Nicolas B.

Séjour très agréable dans cet appartement douillet

Séjour très agréable dans cet appartement douillet

February 2018

---
Show more